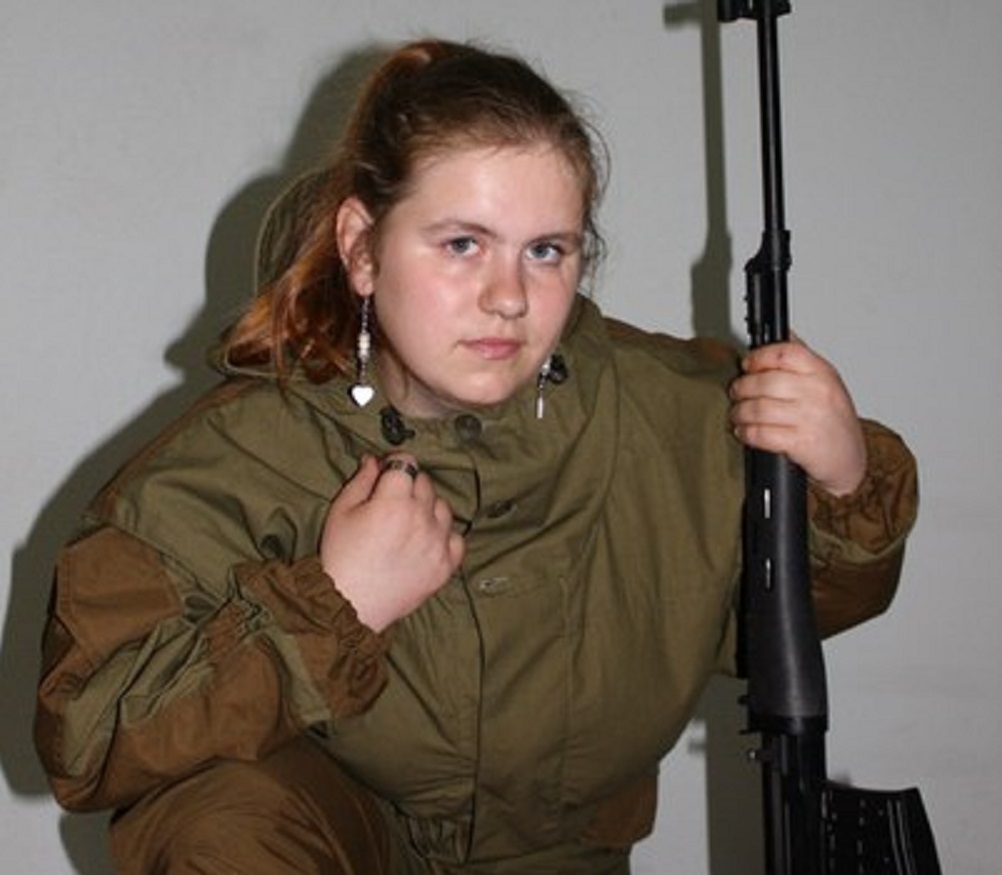 Ukrainian security detained Maria Koleda in
April alleging she shot three people during
protests in Ukraine. Koleda, a Russian citizen,
appears to have associated with Russian neo-
Nazis, according to her social media posts.
Russian president Vladimir Putin has increasingly embraced far-right and neo-Nazi groups in Russia and Europe to promote his policies at home and abroad, including efforts to disrupt Ukraine and divide Europe.
So said
this report last week in Tablet
, a U.S. Jewish current-affairs magazine.
Here are seven signs that Putin's Russia has taken a hard swerve to the far right.
1) Putin's New Friends -- Marie Le Pen & Co.
Putin has closely allied himself with Europe's
fast-growing far-right parties
-- France's National Front, Hungary's Jobbik party, Greece's Golden Dawn and the Ataka party in Bulgaria, according to
Tablet
and
this report
in the journal
Foreign Affairs
.
Russia is thought to have funded some of the parties, says the
Foreign Affairs
report, written by Northeastern University political scientist Mitchell Orenstein.
Europe's far right, in turn, has defended Putin's invasion of Ukraine's Crimea peninsula and ultraconservative social policies such as his anti-gay legislation.
"I am very surprised that the European Union has now announced a kind of Cold War against Russia, which absolutely doesn't fit with the traditionally friendly relations between our countries," French National Front leader Marie Le Pen
was quoted saying
today during a visit to Moscow.
"Even the Soviet Union wasn't like this."
- opposition leader Boris Nemtsov
Le Pen reportedly told the speaker of Russia's lower house Sergei Naryshkin she backed Russia's policies on Ukraine.
Le Pen has previously praised Putin. "As Vladimir Putin correctly stated, 20 years from now France will have become a colony of its former colonies," she
was quoted telling
Russian state television channel Rossia 1.
2) Putin Befriends U.S. Religious Right.
Putin also seems to be tight with segments of the U.S. religious right.
The World Congress of Families, an umbrella of the religious right, was apparently a key force behind Russia's anti-gay legislation,
Mother Jones reported
in February.
"We're convinced that Russia does and should play a very significant role in defence of the family and moral values worldwide," the group's executive director Larry Jacobs is
quoted saying
on its website.
The group's spokesman Don Feder
wrote an article
in March titled "Putin Doesn't Threaten Our National Security, Obama Does."
3) Far Right Invited to Monitor Crimea Referendum.
In March,
Russian-appointed authorities
in Crimea invited prominent
European far-right and neo-Nazi leaders
to act as observers in a
jury-rigged referendum
on joining Russia.
Despite
widespread reports of fraud
, the observers
declared
the vote was "open and transparent."
4) Russian State Media Stokes Anti-Semitism.
Anti-Semitism is on the rise in Russian state media, according to
this BBC report
citing the Russian Jewish Congress.
In one incident in February, Evelina Zakamskaya, a presenter on the state-owned Rossiya 24 news channel, was interviewing Aleksandr Prokhanov, a far-right author who
openly blames Jewish people
for Russia's problems.
Referring to Jewish people who joined protests against Ukraine's pro-Moscow then-president Viktor Yanukovych, Prokhanov said: "Don't they realize that with their own hands they are hastening a second Holocaust?"
Flag of Russian ultranationalist anti-migrant group
Other Russia. It and other far-right Russian groups
are active in pro-Russia protests in eastern
Ukraine, the Kyiv Post reports.
Zakamskaya replied: "They also hastened the first one."
The state-owned Russia Today news channel
hinted last month
that the loss of a Malaysian passenger jet in the ocean in March could have been the fault of British billionaire Jacob Rothschild, who the story noted is Jewish and is now the sole holder of a valuable semiconductor patent.
The European Jewish Congress
said the article
"peddles (an) anti-Semitic theory."
5) Putin's Anti-Semitic Remark.
Putin himself was accused of anti-Semitism over a remark he made last year at Moscow's Jewish Museum and Tolerance Center.
Putin claimed 80 to 85 percent of the first Soviet government was Jewish, which
this Jewish Press item
noted is false (only one of the 16 commissars was Jewish), calling the remark anti-Semitic.
6) Kremlin Backs Neo-Nazis at Home.
Putin's security services have supported Russia's neo-Nazi groups, according to
this open letter to Putin
from Ukrainian Jewish leaders.
The letter, published in March in
The New York Times
and other newspapers, dismissed Putin's claims that Ukraine's new pro-Western government is anti-Semitic.
"It seems you have confused Ukraine with Russia, where Jewish organizations have noticed growth in anti-Semitic tendencies last year," the letter said.
A Kremlin-backed youth movement called Nashi (Russian for "ours") has actively recruited Russian far-right skinheads from groups active in attacks on protesters, environmentalists and even rival extremists,
this Financial Times story
reported.
The story said the Russian government also appears to have repeatedly given "lenient treatment" to a skinhead group called Russian Image, which
this Foreign Policy report
said is "a neo-Nazi outfit" linked to several murders.
"Freedom evaporates with a clap of hands."
- Tatyana Lokshina of Human Rights Watch
Rights groups have also accused Russian authorities and state media of
stoking anti-migrant fears
and xenophobia and depicting migrants as criminals.
In one incident last October, police arrested 1,200 migrant workers -- mostly Muslims from the Caucasus and Asia -- at a warehouse that had been attacked by ultranationalist groups earlier that day.`
"Authorities are going after the victims, which seems completely absurd,"
said
a Human Rights Watch official.
At the same time, Russia's media, increasingly
under the Kremlin's tight control
, has cranked up its
ultranationalistic rhetoric
during the conflict with Ukraine.
After Putin in March denounced domestic critics as "traitors" and a "fifth column," Russia closed down opposition websites and blogs,
this Foreign Policy article
said.
The article said Russia's growing nationalist fervour is silencing critics. "Freedom evaporates with a clap of hands," Tatyana Lokshina, director of the Moscow branch of Human Rights Watch, was quoted saying.
"Even the Soviet Union wasn't like this," opposition leader Boris Nemtsov is quoted writing in
this New York Times story
yesterday on Russia's "xenophobic chill."
"March 2014 marks a turn in the country from authoritarianism to dictatorship," he said.
One of the biggest backers of Putin's invasion of Crimea has been far-right leader Vladimir Zhirinovsky, the openly anti-Semitic deputy speaker of Russia's lower house. He
has called
for Russia to annex much of Ukraine.
7) Russian Far Right Active in Ukraine Unrest.
A number of far-right Russian activists have also turned up in Ukraine participating in pro-Russia protests, seemingly as part of the Kremlin's strategy of using
provocateurs and crime gangs
to destabilize Ukraine.
In March, Ukrainian security forces detained Oleg Bakhtiyarov, leader of the far-right Eurasian Youth Union of Russia, for allegedly
planning an armed attack
on Ukraine's parliament and government offices.
Bakhtiyarov reportedly recruited 200 people for the attack, promising them $500 apiece. He was apparently working with Russian TV channels to arrange for coverage of the raid, the
Kyiv Post
reported.
In April, Ukraine detained
Maria Koleda
, another Russian citizen, for allegedly shooting three people during protests in the southern region of Mykolaiv.
She reportedly participated in anti-Ukraine protests and had a pistol when she was detained. Her social media posts
suggest
she associated with Russian neo-Nazis and hard-right nationalists.
Ukraine has also detained
Pavel Gubarev
, a pro-Russian far-right activist who proclaimed himself the "people's governor" of the eastern Ukrainian city of Donetsk.
This BuzzFeed story
says Russian neo-Nazi and far-right groups have sent members to Ukraine to stoke unrest.
One group, the Russian People's National Socialist Initiative, reportedly posted footage of members receiving military training before heading to Ukraine.
The article quotes Russian ultranationalist ideologue Alexander Dugin, who is
close to Putin
, advising pro-Russian activists in Ukraine "not to find a common language with the new authorities in Kyiv but rather (to) act radically."
Members of two other Russian extremist anti-migrant groups, Moscow Shield and Other Russia, have also been active in the pro-Russia protests in Ukraine,
this Kyiv Post story
said Thursday.
See also:
4 Myths About the Ukraine Crisis, Crimea and NATO
7 Reasons Why Crimea Results Aren't Credible -- and Why Media Coverage Stinks